As a part of our goal to operate for the public benefit, Civic Spark Media and the Western Wayne News will provide regular updates to the community on our operations, health and future plans. This is our first such community report, reflecting activities in the fourth quarter of 2022 for both the Western Wayne News newspaper and the WayneCounty.info news aggregator. (We were founded in July of 2022 but had little business activities as a legal entity prior to the acquisition of the Western Wayne News newspaper on October 1, 2022.)
—Chris Hardie, Owner and Publisher
By The Numbers
2022 Q4 Finances, Oct 1 – Dec 31, 2022
These financial reports are unaudited and unofficial, but we believe them to be complete and accurate as of this publishing. Rounded to the nearest hundred.
Income

Advertising sales: $79,000
Newspaper subscriptions & individual sales: $55,700
Miscellaneous income: $775
Donations: $600

Expenses

Employee payroll & contractors: $59,200
Newspaper printing: $17,700
Rent, office expenses & utilities: $9,400
Postage & delivery: $7,000
Software and online services: $3,100
Legal fees: $2,900
Insurance: $1,800
Credit card processing & bank fees: $1,700
Other expenses: $1,200
Other Metrics of Interest
As of Dec 31, 2022
Western Wayne News subscriber households
Western Wayne News retail location copies distributed weekly: 705
Western Wayne News advertisers: 175
WayneCounty.info daily newsletter subscribers: 370
WayneCounty.info sources scanned: 70
Civic Spark Media employees

Full-Time: 4
Part-Time: 4
Top print subscriber cities in Indiana: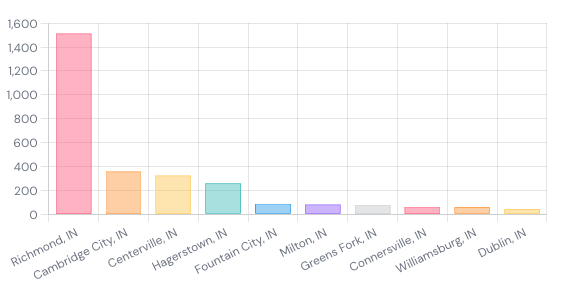 (Despite what the above chart might suggest, we still consider the Western Wayne News to be a paper for the entirety of Wayne County. We will not forget our roots in the western parts of the county, and we will continue to produce news, sports and information coverage that has something for everyone who lives here.)
Top print subscriber states outside of Indiana: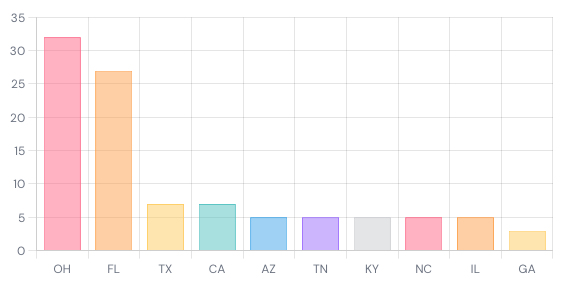 Progress
The list of everything we've tackled in the last few months outside of regular newspaper production is quite long, here are a few highlights:
Lots of time spent on the ownership transition effective October 1. Administrative paperwork, accounting updates, notifying contacts, communicating about the change with the community and much more. Overall this has gone smoothly, with a reasonable number of bumps in the road along the way.
Added a new full time reporter.
Various feedback surveys across our readership, and holding listening sessions in Richmond, Centerville and Cambridge City to keep the conversation going with our readers and subscribers about what they want to see more or less of, and what connects them most to the paper and local information.
Launching a metered paywall on our website that gives free access to a few articles per month before requiring a paid online subscription. This allows us to put more of our reporting online while showcasing the value of a subscription.
Heading into 2023 we left our subscription prices the same and did a small rate increase for some of our advertising offerings. We also clarified our advertisement policies.
Began outreach to propose a structure for a philanthropic fund to help support the local news ecosystem.
Infrastructure updates including new or upgraded: phone system, email management tools, cloud storage and syncing, documentation repository for storing organizational knowledge, subscriber management system, security tools, in-office presentation tools and more.
Revamping compensation, benefits, management and communication tools to ensure our team members have what they need to thrive in their work, and to find a sustainable balance of work and other life pursuits and priorities.
Minor redecorating of our office lobby, social media accounts and the paper's masthead.
Plans
These are some of the things we hope to tackle in the months ahead:
Launching additional media channels to distribute our coverage and better connect with our community, including audio/podcasting.
Collaborating with local educators, students and other young people to increase media literacy and engagement with local news.
Continuing to increase employee benefits and compensation to make working with us even more appealing.
Developing a more complete budget to help guide spending decisions.
Continuing to improve the reach, efficiency and accuracy of our news gathering and production processes.
More listening sessions, feedback sessions and community conversations to ensure we are addressing local information needs.
Problems
For all of the change we've been through, there have been surprisingly few ongoing problems.
Perhaps our biggest challenge is issues with the US Postal Service's delivery of the paper. Our loyal subscribers notice quickly when a paper is late or doesn't arrive at all, and while most people get their paper on time and in great condition every week, we want to aggressively tackle the delivery challenges that remain.
We also had some kind of small creature running around overhead in our office's dropped ceilings for a while. This has been resolved now.
Other Notes
We hope you find this report to the community useful; if you have suggestions about how we can make improvements for future reports, please contact us.